It could be suggested that I am intentionally misleading you...I lured you into today's blog with a picture of the track here at Font Romeu, bathed in glorious sunshine. The truth of the matter, however, is I am sat here writing my blog, whilst my original plan for this afternoon was to be out for a run. Inconveniently though, for the first day since I have arrived here, the morning cloud engulfed our apartments & despite a brief respite this morning when George (Gandy), Andy (Jones) & myself accompanied several of our athletes down the valley for their morning run, the rain has been falling.
Actually, however, I would argue my innocence by highlighting the fact that this blog summarises the weekend just past in addition to the events of today & without a doubt the weather over the weekend was stunning.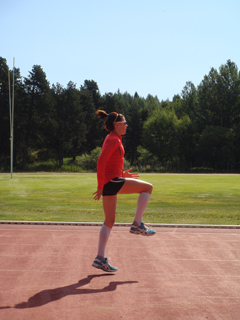 On Saturday morning, I joined Helen (Clitheroe) & Chris (Thompson) who were doing a session up on the track & with the demand for physio not apparent until later in the day, I took the opportunity to watch. Whilst I knew the basis of the session, my ability to monitor times, progress & exactly which part of the session was being conducted was disrupted by a blonde bundle of playful energy.
Paula's husband, Gary, had also come track side to help supervise Chris' efforts but with Paula out doing her morning run, Isla (aged 4) & Raph (a few months) were not to be outdone in the exercise stakes. Within no time Raph was exploring his new surroundings on all fours before being whisked up onto Gary's shoulders to help with timing duties. Isla, however, had other agendas - hide & seek, hide Woody's (Toy Story character) gold & making cakes with the sand from the long jump pit - I was efficiently directed, cajoled & instructed how to play the games she had been playing in her week's activity camp, which for the most part were in a fluent French tongue. The entertainment escalated when a group of French international wrestlers warmed up & launched into a gruelling 8 x 400m set & each time as they hit the bottom bend, Isla would excitedly cheer them on at the top of her voice shouting "Allez! Allez! Allez!" until they crossed the finishing line at the top of the home straight.
After a steady afternoon of soft tissue work on the various punters, George, Andy & Andy Drake (Jo Jackson's coach) headed off for a hard earned meal in La Cellier (fast becoming a UKA endurance team institution) followed by a couple of quiet beers.
Sunday morning, was once again a scorcher & with all the athletes embarking on a variety of long runs, the whole group jumped in the cars to head down to the lake at 1,500m altitude. Training shoes donned, Becky & I joined the masses ploughing along wooded trails before picking up tracks & circumnavigating the lake. The first 2 or 3 miles lulled me into a false sense of security as I happily kept pace with the big guns, but as mile 3 turned to mile 4, Andy Drake & I let them go & kept each other company, whilst Becky was paced by Hannah (England) on her bike. The pace of these guys was then dramatically demonstrated as Paula came bouncing past us barely breaking sweat & within 2 minutes she was out of sight, just a fraction through her final mileage. All in all though, a thoroughly enjoyable 9 mile wake up call.
It is also worth mentioning that Hannah (England) was enjoying the session on her bike as she recovered from her race in Barcelona on Friday night. Click on the link below to see all the results from that meet, which turned out to be a successful night for British athletes, but Hannah was especially delighted as she beat her PB by around 3 seconds & in doing so attained the A standard time for the 1,500m.