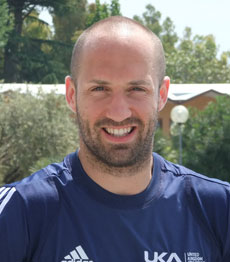 Oliver is an innovative Chartered Physiotherapist & has worked in elite sport since 1998. His undergraduate physiotherapy education (BSc Hons) & experiential learning has been supplemented with an MSc in Sports Physiotherapy, an MSc in Exercise Physiology & a Diploma in Sports Massage. This has given him a broad understanding of the roles of various disciplines in addition to a wide aspect of human performance parameters which can be evaluated, optimised, researched or introduced to maximise athlete potential.
Oliver is a member of the Association of Chartered Physiotherapists in Sports Medicine with Gold level accreditation.
Oliver says:
"Since starting my physiotherapy career in the British NHS, I have worked in the UK, Canada & Switzerland, with national & international teams & athletes. I have experience in Formula 1, soccer (FA, English & Scottish Premier Leagues), rugby (Magners League & international), tennis (ATP & ITF), swimming, canoe slalom, bobsleigh, winter sports & hockey, working with Olympic Medal winners, world champions, championship & cup winning teams."
"I consider myself very fortunate in that the variety of sports & environments in which I have worked to an elite level has afforded me a unique insight into the successful approaches employed by world class coaches, players & support staff. I have used this experience to develop a successful multi-disciplinary medical services & exercise science department in an elite professional sports setting when I worked in football, addressing performance, preparation, rehabilitation and recovery issues of players both physically, mentally & socially."
"As an athlete, I represented Scotlandís national lacrosse team with over 120 appearances including several as captain. Having coached in both the menís & womenís games since an early age, I also held the role as Menís National Performance Director before work commitments in Formula 1 prevailed. More recently I have been employed as a coaching consultant for the Scotland U19 Women's lacrosse team in their preparation for the 2011 World Championships in Germany"
Oliver on Hi-Innovation Ltd:
"Since working with Stephen Mutch & Chris Paterson at Edinburgh & Scotland Rugby in 2007, we have been working to develop the SPoRT System to address the short comings of safety, objectivity & sport/task specific functionality when using resistance tubing in various rehabilitation & performance environments. We have been joined by Henning Langberg & formed Hi-Innovation Ltd in 2009. Since then we have been working with i4 Product Design in Edinburgh to bring our ideas to life. We have commissioned 5 research projects that are conducting independent research projects at Edinburgh Napier University, Copenhagen University & in Danish Handball to establish the validity & reliability of the system prior to taking the now patented system to production."
Oliver on Human Performance Global (www.HumanPerformanceGlobal.com):
"Over the years I have been developing a worldwide communication network of colleagues renowned for their excellence in human performance research & practice. In collaboration with my friends Stephen Mutch, Henning Langberg & Mike Ferrara, we have been developing a on line platform to introduce our friends & colleagues to professionals all over the globe. Later in 2011, HumanPerformanceGlobal.com will launch to provide live internet hosted seminars (or Webinars) which will be eligible for CEUs (continuing education units) accredited by the BOC & several other certification bodies. HPG (as we affectionately term the project) will benefit from this desire to travel internationally on a regular basis, further developing these networks, visiting facilities & discovering progressions in sports physiotherapy, rehabilitation & exercise science around the globe."
Oliver on Consulting:
"Since returning from Switzerland in 2009, I have been consulting independently to advise & provide physiotherapy, conditioning, teaching & coaching services to several teams, organisations, individuals & companies. These include UK Athletics, BUCS (British Universities & Colleges Sport), Susie Willis Physiotherapy, Scotland Lacrosse, Ennovizion Group, Napier University & Glasgow Strathclyde University."
"I really enjoy the mix between elite sports performance service provision, teaching & coaching as I believe it gives me a unique insight into every aspect of sports performance"