Back at the airport again but this time no team travel. Despite a rather frantic start to the day as my alarm clock didn't go off (no idea why other than my Blackberry is getting very temperamental) & I woke at the time I was supposed to be heading for Heathrow, it is a lot more straightforward travelling solo. Granted not the banter of the group, but only one bag to worry about & no one stressing unnecessarily about being places ridiculously early or boarding first (it's not like the plane is going to leave without you, so just sit down, relax & wait for the queue to die down!).
So what's the purpose today? The annual NATA trip is here! This year the National Athletic Trainers Association meeting is in New Orleans (somewhere I have had on my list of places to visit for several years) & HumanPerformanceGlobal.com are representing! But first I have some friends, relatives & sports clubs to visit, so New York is my primary destination.
I am staying in Bridgeport, Connecticut until the middle of the week with a friend I met flying to Costa Rica last year. I am really looking forward to this part as Lauren is the only person that has managed to keep me from falling asleep before leaving the runway on a flight for several years...says a lot about her chat! In doing so she did help prove my theory, however, that jet lag is best countered by sleeping or keeping your eyes closed throughout the duration of the flight, as I suffered jet lag like I haven't suffered it since I adopted this approach after that flight.
Working in F1 enhanced my approaches to dealing with long haul flights, as were airborne 2 or 3 times a week. For me the most effective methods include:
1) Setting your time piece (in my case my phone) to the destination time before leaving the house & remaining constantly aware of what time it is in your destination.
2) Hydration hydration hydration...I read years ago in an article that was probably more opinion than science that tomato juice was a useful ally in warding off the ill effects of jet lag...I haven't seen any science to back this up (vitamin C, lycopenes or just plain fluid?), but since reading it I have drunk a glass of tommy j & a glass of water every time the flight attendants come calling...but never any alcohol!
3) Sleep - or if you can't sleep keep your eyes closed. My theory is it helps reset my bodyclock but I convince myself that I am having a lie in or an early night according to the time at the destination. I used to fly so frequently that I conditioned myself to sleep on cue of the sound of the engines, as I was working long hours at the expense of my sleep so it really was the best use of the time in the air. Since then I haven't watched a single movie on a flight (no great loss as the cinematic experience on a plan TV screen is poor to say the least). The only time I don't sleep is to drink or eat...which leads me onto my next point.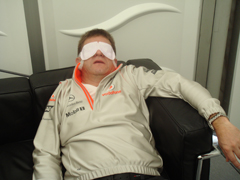 4) My tactic on this is, according to research that was done in the Harvard sleep lab two or 3 years ago, sub-optimal. The best method to combat jetlag is apparently to eat your last meal in your country of departure & then not eat again until the first scheduled mealtime in your destination. However, this approach is clearly not mindful of chaps like me that could eat a small horse at regular intervals during the day! My opinion is that I eat at such a variety of times at work that I don't have a very stringent routine anyway, so I seem to be able to get away flaunting the advice on this.
5) Exercise...whether it's a few stolen stretches whilst waiting for the toilet, or a few lumbopelvic exercise whilst sat eating my plane food, it helps keep stiffness at bay. I also travel with a Compex (muscle stimulator) which I put on my calves & use on a capillarisation, active recovery, atrophy or endorphinic programme on my waking moments (it rarely prevents me drifting off back to sleep).
6) Vicks First Defence - ok, so this doesn't really prevent jet lag but it is fantastic at reducing the amount of infections you pick up travelling with the great unwashed. I mean, seriously, I was taught at the edge of 2 that if you sneeze or cough, you over your mouth but some people seem to think that the greater aerosol they can spread the better. This was one of the best bits of flying on a PJ (private jet)...along with the lack of waiting around...when working in F1. Kimi Raikonnen used to liken the public in airports to ants...harsh but maybe he had a point. So back to the First Defence...a quick dose up the nostrils on boarding & every 4 hours until the day after arrival.
So, there you, go Olli Finlay's Top Travel Tips for today...something to consider whilst waiting for the lights to go out at Canadian Grand Prix or Game 6 of the Stanley Cup Final to face off.
Jet Lag at a Glance:
http://www.harvardhealthcontent.com/HealthTopics/125,AZ_d0267
http://healthysleep.med.harvard.edu/healthy/science/variations/jet-lag-and-shift-work