Believe me, I thought long & hard before adding this photo onto the blog...I am fully aware that some of you may accuse me of being on a jolly (holiday) rather than being away with work! This was the view that I took in late this afternoon when, with all athletes treated, I went down to Dorres Bains to unwind in their sulphur baths.
The pattern of the last two or three days has been one of preparing the guys for their morning sessions, then checking the guys before they leave the camp to go & compete & then working through the rehab & maintenance issues before the late afternoon training sessions begin.
Mo (Farah) left with his family & coach, Alberto (Salazaar) on Wednesday to fly across to Monaco to compete in tonight's Diamond League meet. As I write, BBC Sport has just informed me that his camp has obviously been a success, as he has just broken the British 5,000m record in taming a strong field with a time of 12.53:11 - Deagu here Mo comes! Then Hannah (England) left Wednesday afternoon to race tonight in Barcelona after just missing out on a Diamond League vest....but as her race doesn't start until 10pm local time (gotta love the Spanish), her results will come through whilst I am long finished writing! Then after her morning training session, Jemma (Simpson) left for Barcelona too. Whilst Jemma doesn't race for 2 weeks, through experience she has found that to optimise her training she needs to leave altitude a fortnight prior to competing & seeing as the effects of altitude training continue for around 4 - 5 weeks post camp, she will be feeling the benefits for a while to come.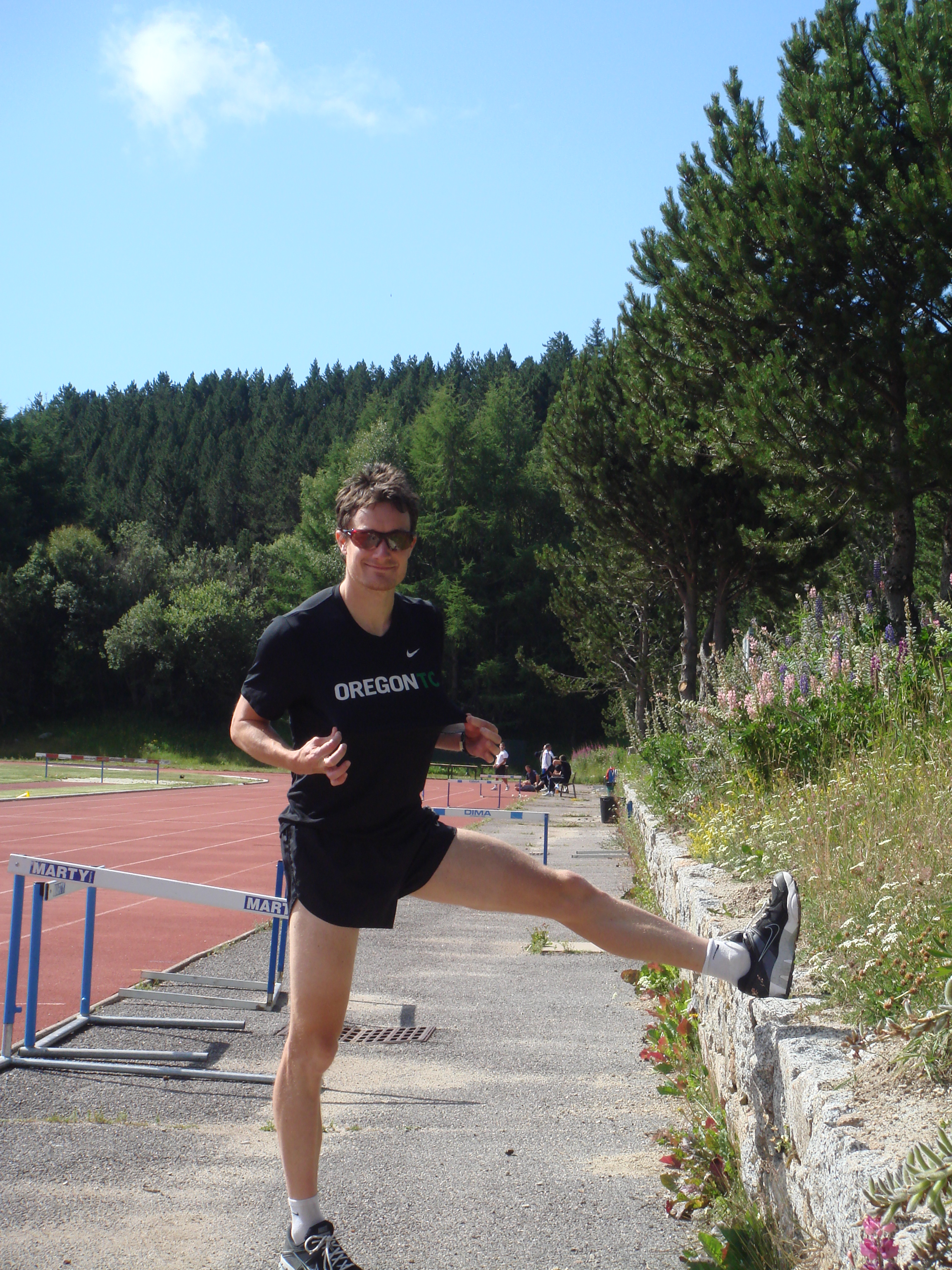 So after giving Jemma a quick review, I spent some time putting Chris (Thompson) through his paces after his morning session...Chris & Jemma both run for the Oregon Track Club in Eugene, or Track Town USA as it is nicknamed. The club came about after Phil Knight wanted to provide an athletics hub for those athletes that had studied & trained at Oregon State University & today the green jerseys are still bank rolled by their famous benefactor. They are coached by former Olympic Bronze Medallist & UK Athletics coach Mark Rowlands who moved out to Oregon 2 years ago & has never looked back. The Club are over in force to benefit from the altitude camp here in Font Romeu & there is a great rapport between both camps.
After being kept entertained by Chris, Paula (Radcliffe) came for her daily chat (oh, & a bit of maintenance) & talked me through her morning...14km treadmill-based physiological testing with Andy (Jones) who arrived on Wednesday to take the baton from Barry (Fudge), followed by a further 4 minutes whilst decorating the bedroom that houses her Alter-G with blood from her finger prick site!!! All in a days work, but the great news is that the results were very positive.
Paula's session flew by with plenty of advice on where to visit should I get a few hours here & there, which included the Roman baths at Dorres, so when Lauren (Fleshman) dropped by looking for a buddy to go to the sulphur baths with, I offered my services. The only slight concern was that the French have a penchant for budgie smugglers, or banana hammocks & frown upon anything less revealing. Fortunately Paula suggested Dorres was slightly more lenient, so you will be pleased to hear my quest for Speedos stopped before it began!!
So Lauren & I put the worlds of athletics, business & blogging to rights looking out over the Catalonian countryside whilst the rest of the GB athletes & OTC counterparts either prepared for their evening races, finished their second sessions of the day or spent time around the town enjoying their recovery. The advice I can now give you as a result of our chat is that 1) don't assume all Americans have no clue about what goes on outside their country borders (Lauren is a whizz on random British history facts) 2) Eat Picky bars (Lauren's recipe for her, now very popular & tasty, gluten & dairy-free recovery bars, which you can find at
www.PickyBars.com
) & 3) If you want an entertaining & engaging blog to read once you have finished reading my musings for the day, visit
www.askLaurenFleshman.com
& ask her any questions that are on your mind!!
And now, as news filters through from the BBC that Usain Bolt has just won the 100m in Monaco in a personal season's best time of 9.88 seconds, I am off to bed...it's been a long hard day ; )!