Here I am, just about to check out of the hotel & head to the track for the last day of the Aviva UK Trials & Championships, whilst reflecting on yesterday's events down at Alexander Stadium. It was certainly a big day, with the races of the day arguably not even being any of the finals. The big talk beforehand had been about the strength in depth of the men's 400m talent pool & neither of the heats failed to disappoint. The final takes place later this afternoon but neither Michael Bingham nor Conrad Williams will be taking a lane after Martyn Rooney, Chris Clarke & hurdles specialist, Dai Green led the way.
The big winner of the day had to be Perri Shakes-Drayton after she claimed the 400m flat title with a truly awesome finish & secured a spot in the 400m hurdles final with the second fastest time behind Scotland's Eilidh Child in the heats. On a personal note, I was delighted to see Jeanette Kwayke return to take the women's 100m title in a time of 11.23 & Hannah England follow up her success in Barcelona last week with a truly breathtaking finish to win a thoroughly exciting 1,500m race which had been taken by the scruff of the neck in the early stages by Stacey Smith.
Other notable results included Dwain Chambers holding off Harry Akines-Aryeete & Marlon Devonish to win the men's 100m in 10.09 seconds, Jessica Ennis winning the high jump competition with a leap of 1.89m, inbetween achieving 7th place with a PB in the shot putt & finishing 2nd to Tiffany Ofili Porter in the 100m hurdles. World Youth Championships bronze medal winner, Jessica Judd secured a place in the 800m final that takes place today & will line up alongside heat winners, Jenny Meadows & Emma Jackson as well as fellow automatic qualifier Marilyn Okoro.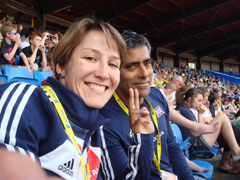 In the medical room, business ebbed & flowed, reaching a crescendo towards the latter stages of the afternoon, but as ever the banter was flowing with our CMO, South African Paul Dijkstra fiercely defending fellow countryman Oscar Pistorious' right to compete in the able bodied 400m events with his bilateral blade advantage in a heated but comical debate with fellow medics Noel Pollock & Rob Chakraverty. There was even time in the quieter moments to slip track side to check on the progress of the guys that we had been treating & catch up with some of the coaches that we have been working with throughout the season.
(Photo: Rone Thompson & Rob Chakraverty, cheer on Lisa Dobriskey in the women's 1,500m final)