Today was fantastic - not one for those with a phobia of feet (particularly feet not attached to the bodies they have spent their living years with) or the squeamish, but for me it was very educational. We were in DJO's surgical labs first thing & tackling our cadaveric feet (excuse the pun) before 9am under the guidance & tutelage of James (Calder) & Peter (Rosenfeld). As you can tell from the picture, I was encouraged to get involved despite my lack of arthroscopy & surgical skills & before the day was over I was able to find my way around the musculoskeletal structures of the distal lower leg, the joints of the ankle & 1st MTP (metatarsal pharyngeal or one of the joints of the big toe for the non-medical readers) & had even debrided some of the intracapsular tissue & inflicted an articular chondral defect on the specimen, to enable us to prepare the joint for a mosiacplasty. Apparently I took to the whole arthroscopy task rather well, which was pleasing to hear, as I dread being totally incompetent!!!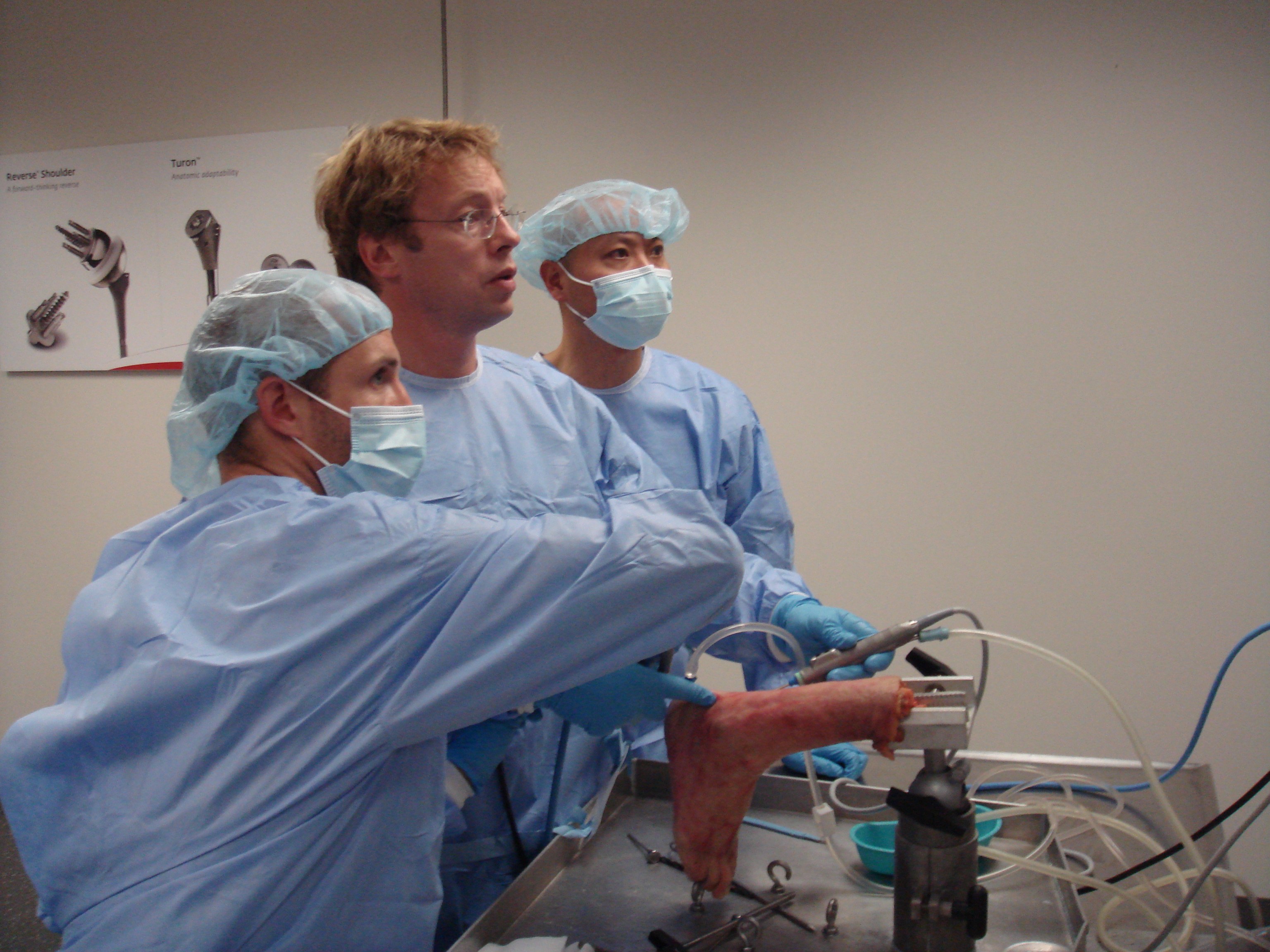 In between sessions in the lab James & Peter delivered some informal & interactive lectures, promoting debate on various aspects of foot & ankle trauma management & the group joined in with great interest. The dynamics of the assembled party have been awesome, with everyone being respected & their opinions valued. The chat has been diamond to boot. I just hope it remains for my presentation tomorrow afternoon!!!
This evening Mike (Mogul) took us for a phenomenal meal, which for me included an incredible Bison steak & some sensational local wine from just north of San Diego in the Nappa Valley. Again, the conversation never let up all evening & was interested to hear more about Mike's previous roles in another orthopaedic company, Peter's penchant for skiing in Verbier, James' involvement in Indian cricket, Miles' experience picking grapes in France & Alistair's run in with a 30oz steak (made pertinent by James ordering the 24oz Porterhouse). Now, I come crashing back to earth & the last minute tweaking of my presentation so it lives up to the offerings of the previous sessions delivered by James & Peter.
So, good night & see you tomorrow!