This morning we all congregated for the week's "long session", which sounded ominous but Spencer, John & myself had decided on keeping the run to a 45 minute loop of about 5 miles…so nothing too strenuous.
Luckily the sun had come out & the tracks had dried nicely, so the slippy conditions we'd experienced over recent days were not to be repeated. After a first mile of easing into the run at about 7 minute 15 second pace, we upped the ante & clocked 6'38", 6'41", 6'57" for the subsequent 3 miles. We were feeling good, however, the previous experience that Spencer & John had of this route was then shown to be far from water tight! The next mile saw us keeping the same steady pace but a wrong turn & short debate saw the times drop to 7'31" then 7'02" for the respective 2 miles before the navigational wheels well & truly fell off the wagon.
The loop that was supposed to turn back to the road, giving us a rough 5 mile target already seemed a forlorn aim & we soon started to venture into areas where the local looks turned more from excitement at the running white men, to stunned curiosity & genuine amusement. The markers on the horizon seemed to be drifting further into the distance when they become visible, whilst the GPS watches were clocking up the miles.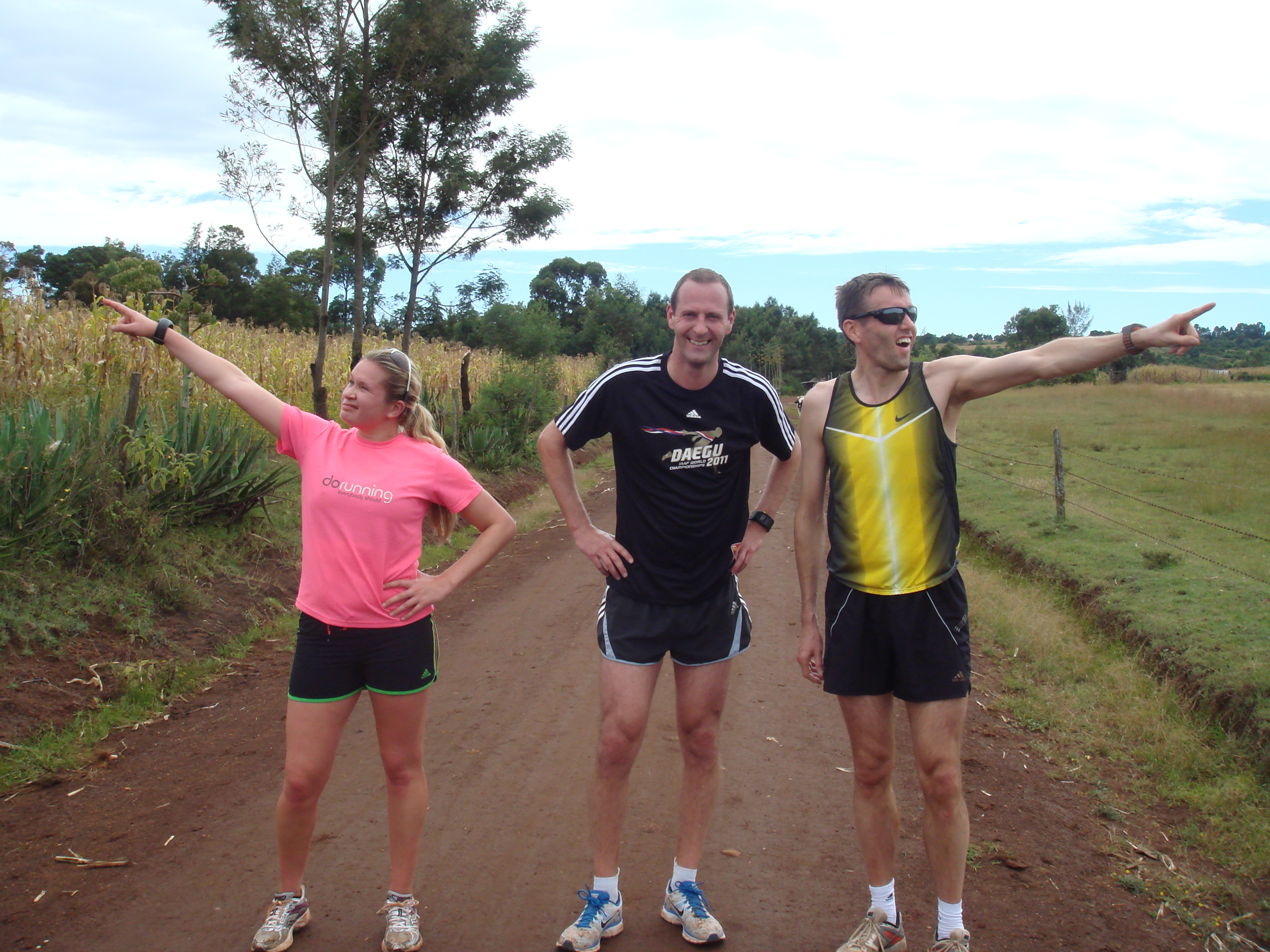 Yes, we were in fact completely lost & now joined by Becky who had been following us from a distance, our limited Swahili combined with the now less educated locals' lack of English was not fruitful in guiding us back to our route. On we pressed, back up the hills that only minutes earlier had been welcome downhill respites from the upward stretches, passing children that had already asked "how are you?" once before. Meanwhile, my training shoes, the Adidas version of the Nike Free, that is designed to be worn on short distance sojourns only, were now starting to demand much from my tiring feet on the rocky trails.
Eventually we managed to communicate enough with some English speaking chap on his way back from church to point ourselves in the right direction. 15.3 miles, several wrong turns & 2 hours 6 minutes later we trudged back into the centre to be welcomed by scattered applauds from several of the athletes, led by Andy Baddeley & Mark Draper. We returned rather tired, rather amused but personally very satisfied that I had answered a question that had been at the back of my mind for a while – "would I be able to complete a half marathon?" In fact, the data on the Garmin suggested, that at altitude & on rather hilly, stoney tracks, I completed the 13.1 miles in 1 hour 42 minutes, which included a lot of stopping to ask for directions & debate our subsequent navigational revisions.
On our return we were greeted by Brother Colm O'Connell, the athletics coach & head of sports at St Patrick's College in Iten, the local school with an unbelievable history of producing numerous world & Olympic endurance champions. Champions such as David Rodisha, Wilson Kipketer, Wilson Boyit Kipketer & Peter Rono have all been coached by Brother Colm, whom has also been involved in the development of Vivienne Cheruiyot, Lornah Kiplagat & Sally Barsosio. The school has a tradition of planting a tree in the grounds for each time one of their former pupils becomes a World or Olympic champion or breaks a world record - they now have the makings of a small forest. Given I had to get a quick shower before starting treatment I didn't have time to listen to more than a few of Brother Colm's recollections of his 35 year history of his time living in Iten, however he has promised to come back again this week & so I intend to interview him for the blog if at all possible as he was a warmly entertaining gentleman.
So there you have it, a great day out here in Kenya & now I am awaiting supper followed by an early night tucked up in bed!