Disappointingly, the last two days have been somewhat of a write off. Whilst I was cycling back after work, late on Wednesday night, I had a rather spectacular crash taking evasive action to avoid an ignorant moron, whom having made the decision that it was neither dangerous, selfish nor foolish to cycle in the pitch dark without lights, came out of nowhere & across my path on an icy track. I don't remember much, other than looking backwards through my legs as I executed a rather impromptu, but moderately fluid somersault & then taking my time to come round on the floor, checking my vitals were still intact, whilst wondering how my bike was so far away. Fortunately, the worst injuries I have to catalogue are whiplash, bruised ribs/diaphragm, a sprained wrist & some bony bruising to my hands & elbows...I was without doubt very lucky not to have been looking at a longer lay off from work with a scaphoid fracture, which was my initial concern.
In the meantime, I have been catching up on the pre-Superbowl XLVI chat on the various US radio channels that I have found on my iPad & listening to the hype that precedes this Sunday's game in Indianapolis. Given my previous visit to the Timex Center & the friends I have made in the Giants franchise, there are no prizes for guessing where my loyalties lie for the game ahead, although much of the media seems to be favouring the Patriots.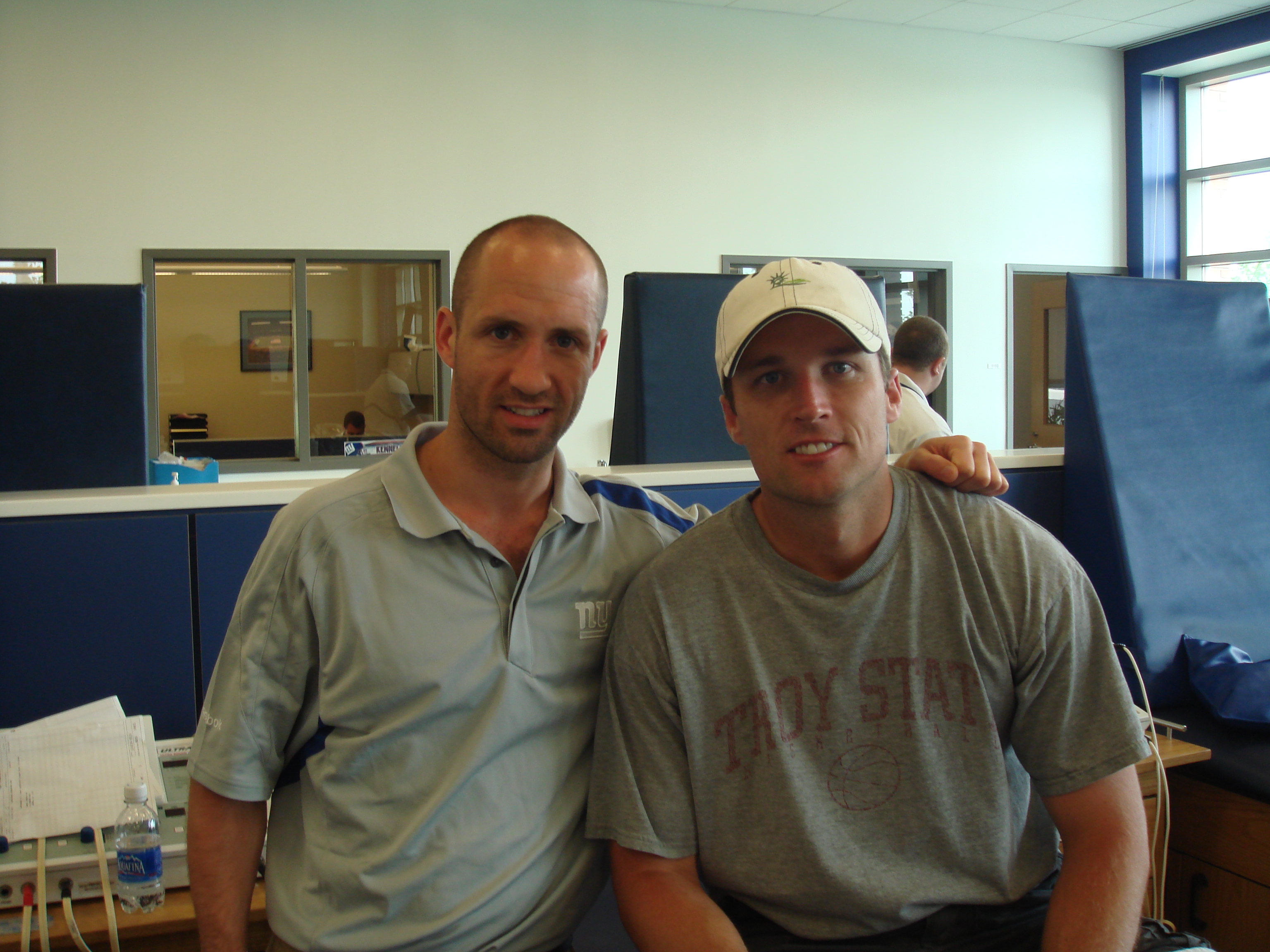 For those of you yet to make up your mind who to rustle your pom-poms for, if you're Scottish, it has to be the Giants. Kicker Lawrence Tynes (pictured left) was born in Scotland, moving to the US at the age of 10 & told me that he still goes back to visit family back in Strathclyde once in a while. In fact, for the second time since joining the Giants back in 2007, it was Lawrence's kicking that sealed the deal in the Championship game, this time against the San Francisco 49ers (5 years ago it was Green Bay that were on the receiving end), to earn the rite of passage to the show piece final.
Lawrence also played for the Edinburgh-based Scottish Claymores in the now extinct NFL Europe league. Click here to read Lawrence's take on the achievements on the NY Giants website:
Deja Vu for Kicker Tynes
Another Giant who was keen to share his appreciation for Scotland during my visit, was QB Eli Manning. Eli visited in 2008 with his father & brother, Peyton, to play golf at the Old Course in St Andrews, Gleneagles & Troon amongst other golfing "institutions" on a mini-tour in their off-season.
As for myself, the 22.30 start means a lot of sleep on Sunday afternoon, a couple of cups of green tea & a camp on the sofa. In fact, given the findings of a recent study looking at the effects of caffeine ingestion on skill & performance in soccer, the players themselves may also be drinking caffeinated beverages before the kick-off, with the aim of enhancing their high-intensity sprint capabilities & accuracy of skill repetition.
The study, published in the British Journal of Sports Medicine, compared the effects of ingesting carbohydrate (6.4%) & caffeine (160mg) versus ingesting just carbohydrate (6.4%) versus a placebo in a double-blind, randomised, cross-over design. Tests were conducted with 8 university-standard, male soccer players, on three separate occasions, with each bout separated by 7 days. The protocol was 90 minutes in duration, consisting of ten, 6 minute exercise blocks, followed by soccer-specific skill tests stressing agility, dribbling, heading & kicking accuracy. Significant differences (p < 0.05) were found between the carbohydrate/caffeine, carbohydrate & placebo groups for each of the tests.
The authors reported that skill performance during the soccer-specific activity improved with carbohydrate/caffeine supplementation in comparison to both carbohydrate & placebo. In addition, whilst carbohydrate/caffeine supplementation had no ergogenic benefit over carbohydrate in the maintenance & availability of blood glucose, the players receiving the carbohydrate/caffeine feed were able to sustain a higher work intensity in comparison to both other groups, as demonstrated by the elevated blood lactate levels.
To read more on this study, click on the link below:
Now, strictly speaking, based on this research alone, it can't be assumed that the guys participating in Saturday's Superbowl will benefit from the same supplementation, as this study was conducted on a small number, of sub-elite athletes, participating in soccer, which is a sustained intermittent form of exercise as opposed to a game consisting of explosive phases of play lasting a maximum of around 6 seconds. My other issue with this study is that a flat dose of caffeine was given to each subject, as opposed to giving a dose calculated according to body mass. However, the concept is an interesting one, that will hopefully prompt more research into the topic.
So is co-ingesting carbohydrate & caffeine just of benefit pre-exercise participation? Well, according to a study conducted by Pedersen et al & published in 2008, rates of glycogen resynthesis were seen after co-ingesting carbohydrate & caffeine once exhaustive bouts of exercise had been completed.
For those of you not steeped in exercise science knowledge, glycogen is the form in which humans store glucose (carbohydrate) in the liver & muscles, so that it can be used as energy when required & understandably these stores are used up, or "depleted", during a training session or competition. Lots of research has been done into how these stores can be most effectively & quickly replenished again, or "resynthesised", to ensure that the fuel stores are stocked for a subsequent bout of exercise, with this study being just one of many.
The study by Pedersen again uses a double-blind, randomised, cross-over design, to compare the effects of taking on board a carbohydrate (4g per kg body mass) & caffeine (8mg per kg body mass) feed in a 4 hour passive recovery window following an exhaustive cycle session. Interestingly, muscle biopsies & blood samples demonstrated that whilst the glycogen levels were not significantly different at exhaustion, or 1 hour into the recovery period, at 4 hours following completion of the cycling task, glycogen levels were significantly greater after co-ingesting carbohydrate & caffeine (313 /- 69 mmol/kg dw) in comparison to levels after ingesting just carbohydrate (234 /- 50 mmol/kg dw). That means that the rate of glycogen resynthesis following the co-ingestion feed was 66% higher than the rate following the carbohydrate feed alone. That is not even slightly significant...that is a huge difference.
For those of you interested in reading more about the study design & looking at the results in more detail, click below to download the paper:
Again, it must be remembered that this is a small study, conducted with 7 trained subjects on a cycle ergometer, without a control being provided by a placebo feed but the results are indeed convincing & worth further consideration.
My interest in the field began back in 2005, whilst looking at the immunoendocrine responses to exercise following the co-ingestion of carbohydrate & caffeine. My dissertation study was also conducted using prolonged exercise bouts on a cycle ergometer & found that the co-ingestion of carbohydrate & caffeine was able to exert a significant influence on the immune system, to override the normal decline in immune function (specifically neutrophil oxidative burst) in the post-exercise phase.
Ironically, whilst I have found the journal hard copies of my own paper, I can't seem to locate a PDF version, so until I can lay my hands on that, click below for a link to the abstract:
So, there we have it...I just hope you can stay awake for the Superbowl now!!!! Good luck to Byron, Ronnie, Steve, Lee, Lawrence, Eli & the guys...Go Giants!!!